*Republished from the February 2016 issue of The Kayseean
By Rachel Burrus
The Twin City Radio Theatre has become the creative enterprise for Christopher Slaughter, associate professor of theatre and the chair of the theater department at King University. Since the fall of 2007, Slaughter has been an active force in the theatre department, especially with his ongoing project, "Twin City Radio Theatre," which began its first season in 2008 on the main Bristol campus.
For Slaughter, radio drama has been a life-long love. "Nostalgia comes into play when I think about [radio drama]," says Slaughter. Prior to King, Slaughter worked as a theatre and speech educator at Westfield University in Westfield, MA, where his radio drama projects first began "in an academic setting." The project there was called Whip City Radio Theatre. Slaughter further explained that Westfield was nicknamed Whip City because it used to be "the largest manufacturer of buggy whips at the turn of the twentieth century."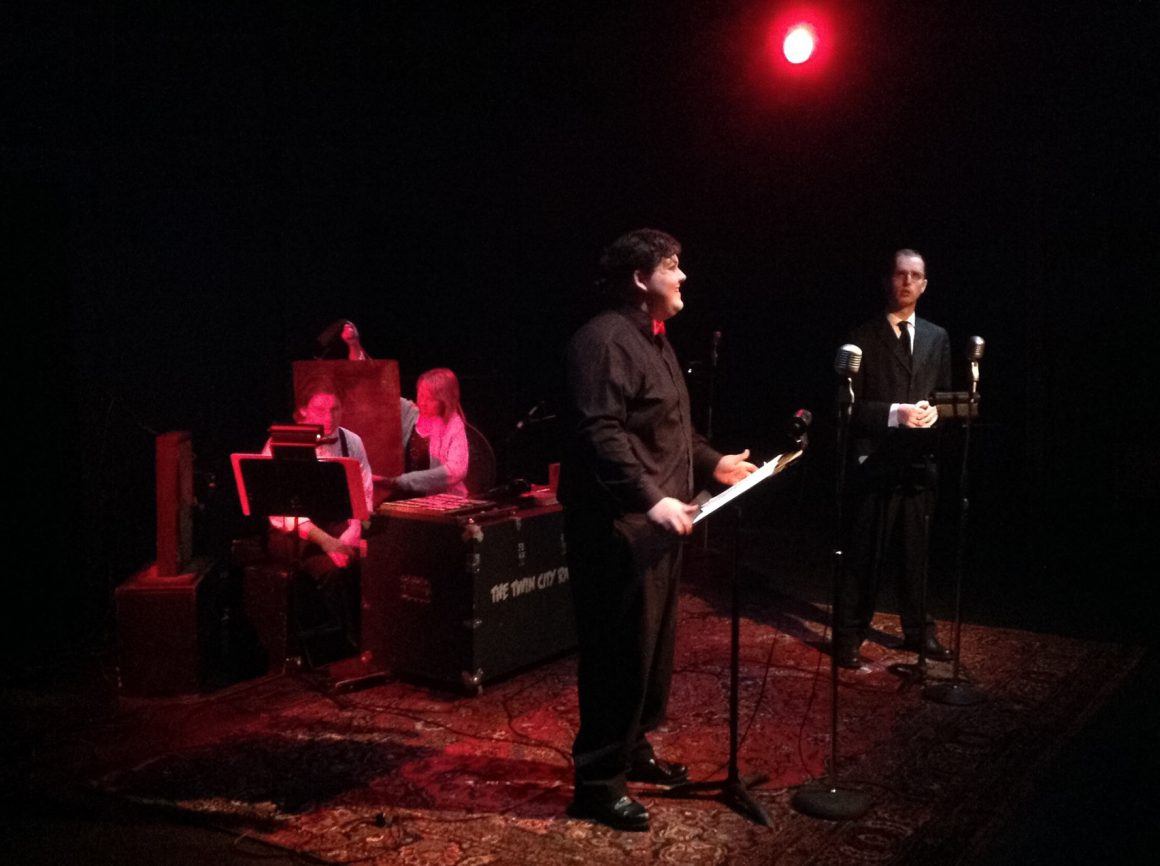 Typically, Slaughter holds open auditions for each Twin City Radio Theatre season; so, anyone can come and audition for the performances thereof–whether you are a King student, faculty, or staff member. Slaughter also encourages community involvement in and around the twin cities of Bristol TN/VA. "I usually try to visualize the community of actors I have when choosing plays, and when I can, find radio plays that 'fit' a certain actor or pair of actors," say Slaughter.
Slaughter also strives to involve local KU theatre alumni. In 2015, the TCRT's showing of "A Haunted Houseful" featured music alum Martha Hawk as hostess while this year for TCRT's "A Twin City Radio Theatre Valentine," Smiley Mueller, KU alum with a degree in business/theatre, joined the company as host.
Slaughter further explains that the process begins like most other plays with a table reading. Actors sita around together and read their parts while a stage manager reads the stage directions as well as sound effect cues–in the case of a radio drama script.
Within the first week, the show is blocked and Slaughter works with the actors to begin character relationship development. Live sound effects enter the rehearsal scene in the second week. During the third week, Slaughter brings in the audio engineer and adds microphones and any recorded sound effects that are not produced on the stage. These sound effects often include various vintage props such as a small door to assimilate door slams or a xylophone to set the mood of a suspenseful scene. A gong signals a scene change. By week four, Slaughter adds costumes, makeup, and lights–and by that point, "we are ready for an audience," says Slaughter.
The experience of seeing a Twin City Radio Theatre performance is not unlike going to see any other play; however, what one sees onstage is quite unique. "We try to recreate some of the conditions you might have experienced as a studio audience member during the 1940s or 50s. You see actors gathered around microphones with scripts in hand. You see and hear sound effect artists creating the aural environment of the show," says Slaughter.
Slaughter includes two complementary "episodes" held together by a common theme. There is "a comic host" or a "master of ceremonies" who introduces the episodes and serves as a framing device, interacting with the cast and audience. Visual design remains at a minimum in order to bring the focus to the aural elements of the performance. "It's very similar to storytelling," says Slaughter. "It requires active imaginative participation from the audience."