By Nick Valentin
The city of Bristol will undoubtedly be rocking with holiday cheer last weekend with the world premiere of "Good King Wenceslas". Good King Wenceslas is a fun, witty Christmas play that displays themes of the Christian faith and conveys the importance of family during the holidays. The play has never been seen before and will debut at the Paramount in Bristol, Tennessee, on Friday, December 2nd. The play is written by Katherine Patterson and Stephanie Tolan, two world-renowned authors with prestigious track records. Patterson, a King graduate, is most notable for her book "Bridge to Terabithia", whereas Tolan's most significant project is Surviving the Applewhites. The production of this play is a massive deal for King University, to say the least. With Patterson graduating from King in 1954 with a degree in English, she bestows the honor of the first performance of it within the hands of King and members of the school's community.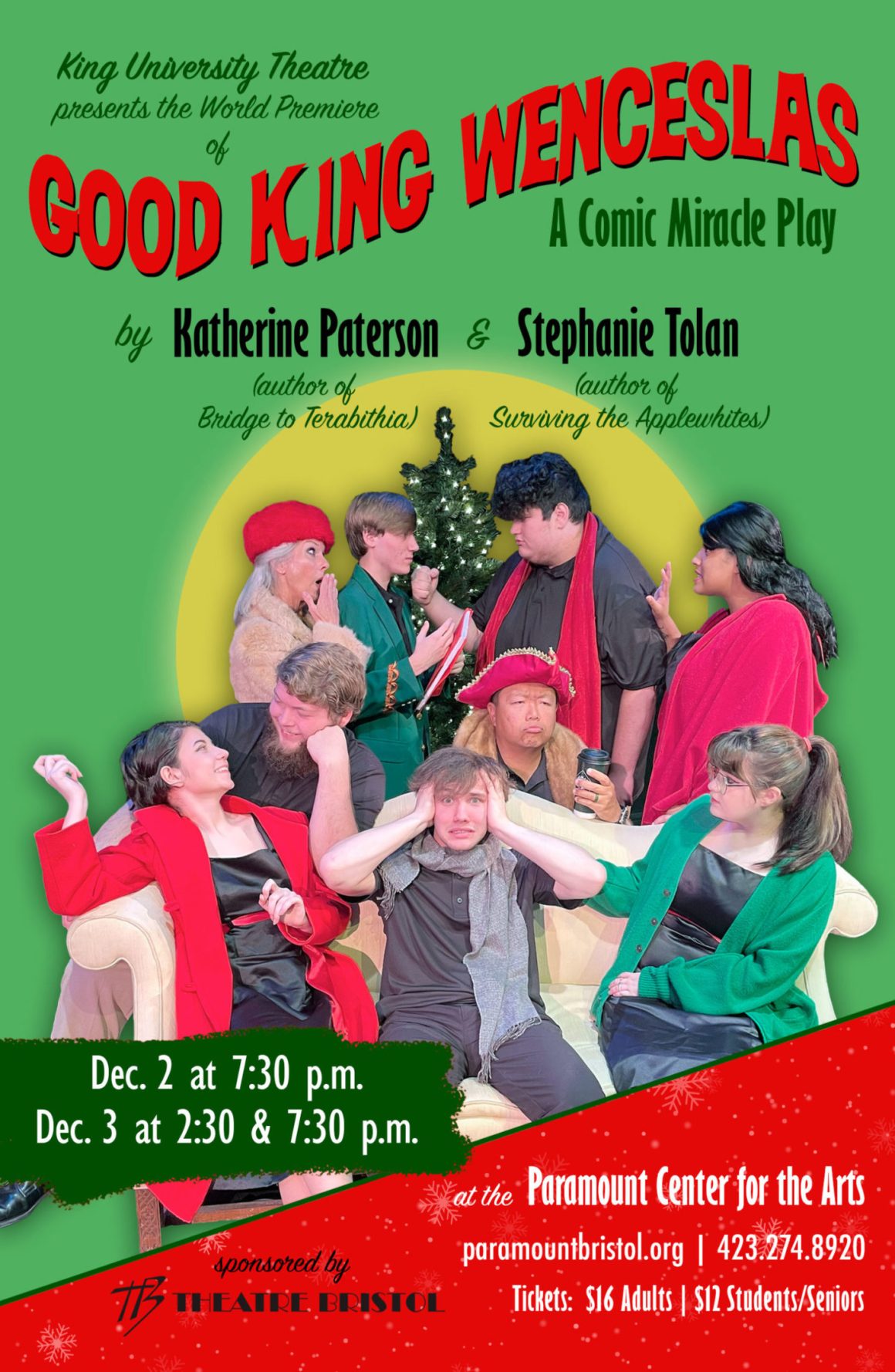 In an interview with Dr. Han Ong, a Professor at King University who plays the role of the homeless man in "Good King Wenceslas", I had a few questions about his participation in the production of this project. When asked how it feels to be in the first-ever performance of "Good King Wenceslas", Ong stated, "Everyone feels excited and more freeing because you cannot compare us to any other professionals because it has never been done before." Ong continued by saying, "At the same time, it's nerve-racking because the author herself will be there. Everyone respects Katherine Patterson so much that they want to do good and not disappoint her."
As a professor at King, Dr. Ong's participation may surprise some. Therefore, I asked if he had prior experience as an actor and what attracted him to audition for this play. "Firstly, I am not the only professor. Professor Alisa Hearl is in there as well," said Ong. "There have been other professors that have participated in plays before me, and that's the kind of atmosphere you want at a liberal arts college." Ong continued by saying, "learning and teaching are not just primarily me trying to teach my students in Biology. I can go and participate in that and be a good example for student actors who are brand new to the process and are trying to learn professionalism as a performer."
Ong was passionate about setting an example for students at King University, stating, "hopefully, my participation is not just for my enjoyment but also an extension of myself as a teacher by setting myself as an example." Looking back at the topic of Katherine Patterson, I asked if it felt like an honor to be a part of one of her projects. "It is especially when this is not just her writing. It's also a collaboration with Stephanie Tolan," said Ong. "In early interviews, she and Tolan have been talking about this play for a long time," he continued. "I'd like to think that this play has been in their minds for a long time trying to tell a Christian morale story, so it is an honor to try to understand this story's arch that has been going on for twenty or thirty years," he said.
In a production process, there is no shortage of memories. I asked Ong what the most memorable part of the production was to him. "Taking the production to the paramount, I have been involved in many productions at King with our tiny little stage where everything is scaled down a bit, but when you go to the paramount, everything is scaled up," Ong said. Lastly, I asked if there were any last nerves to express before the world premiere of "Good King Wenceslas". Ong said, "no not really, it's fun we are working with people who are very good at what they do."
An inspiring time for King University and the City of Bristol, "Good King Wenceslas" debuted on Friday, December 2nd, at 7:30 pm, and had two more showings on Saturday, December 3rd at 2:30 pm and again at 7:30 pm. Christmas cheer is in the air, and enjoying the experience of this play was undoubtedly a fantastic way to kick off the holiday season.