By Callie Shehan, Student Editor
Over 40,000 people brought Bristol Motor Speedway to life this past weekend, turning the iconic NASCAR short track into the World's Loudest Half Mile, but not for reasons you might think.
On Friday, September 30th, the Great Smoky Mountains of North Carolina native John Morgan kicked off the night at 3:30 PM as fans waited for country music legend Jason Aldean. Morgan, a co-writer of many Grammy-nominated hits by Aldean, was signed to Broken Bow Records (BBR) Music Group's imprint Night Train Records. During the two-day event on Friday, Morgan sang many of his hit singles, including his latest release, "Friends Like That." For more information on John Morgan and to listen to his new single, click here.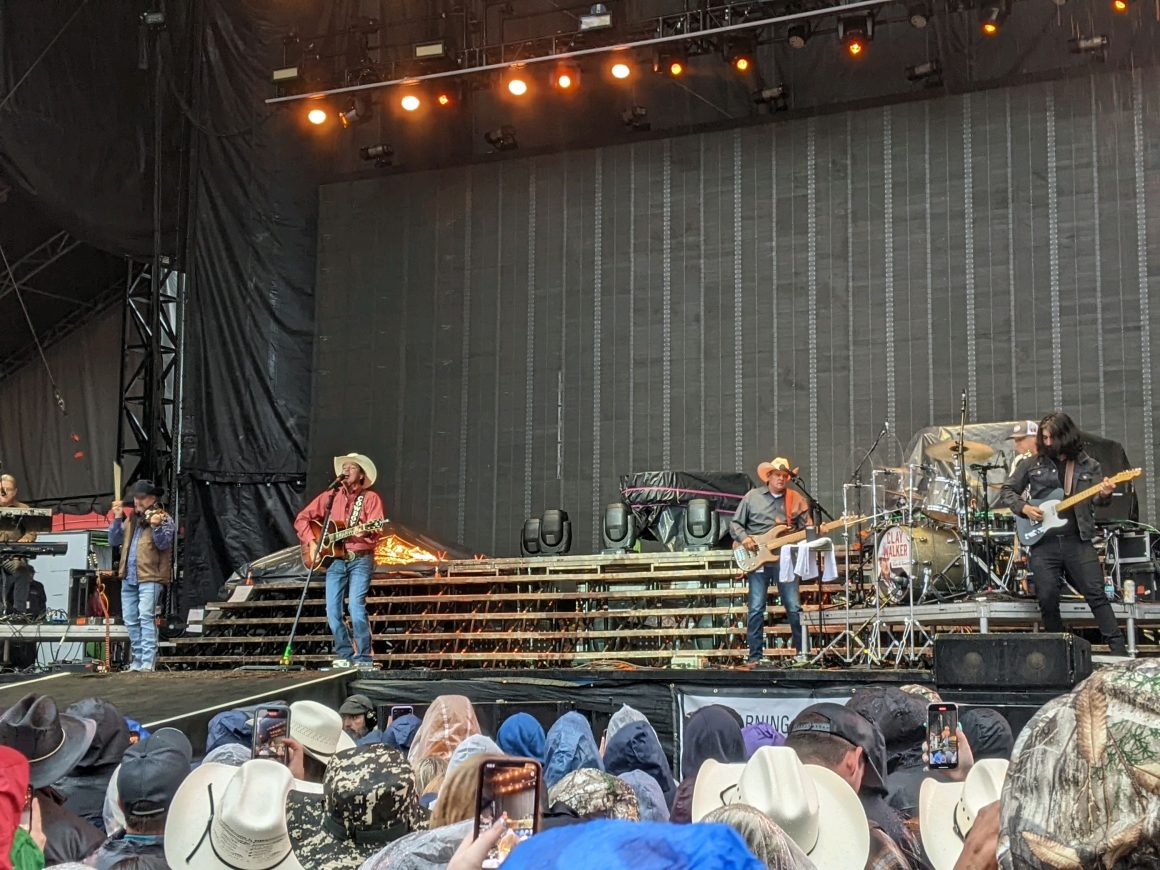 After John Morgan's performance, Kameron Marlowe hit the stage at 5 PM. Marlowe, who hails from Kannapolis, North Carolina, lived out a short stint on NBC's The Voice singing "Tennessee Whiskey" by Chris Stapleton, which landed him a spot in the show's live auditions. After The Voice, Marlowe jumped headfirst into his music, and since his season 15 venture, he has written over twelve singles, with his latest release being his first album, "We Were Cowboys," which debuted in August of this year. For more information about Kameron Marlowe, click here.
Following Kameron Marlowe, fans were surprised to find that Travis Tritt, the third performer of the night, would not be attending the event due to unknown circumstances. Instead, Clay Walker stepped into rock the stage Friday night, singing hits such as "Fore She Was Mama" and "She Won't Be Lonely Long." Walker, who has been in the country music scene since 1993, has released eleven studio albums, including a greatest hits package and a Christmas music album.
Another signer of Jason Aldean's record label home BBR is Dee Jay Silver. Silver is a country music DJ who was the first ever DJ to sign a significant Nashville Record Label, RCA Nashville. For the past 15 years, he has played in premier venues throughout the U.S., Mexico, and Canada, mixing up a unique blend of various types of music. To learn more about Dee Jay Silver, click here.
To end the night, Jason Aldean rocked the stage with over 20 famous songs, varying from his first album to his latest. The multi-platinum entertainer has been making music over the past 16 years and has the top 10 songs on Billboard's Hot Country Songs chart, more than any other artist, since making his chart debut in 2005. His latest album pays homage to his hometown roots of Macon, Georgia, for which the album is named after.
To kick off day two of the event, Montana Native Ian Munsick played at 3:00 PM, singing hits like "More Than Me" and "Long Live Cowgirls." Munsick seeks to bring a taste of the West to the country music scene, recording songs that conjure "equal parts epic adventure and down-to-earth wisdom." You can find more information about Ian here.
At 4:30 PM, Tracy Lawrence took the stage, singing well-known hits such as "Time Marches On" and "Paint Me A Birmingham." Lawrence has sold over 13 million albums throughout his career and celebrated 18 number-one singles since joining the country music scene in 1990.
By 6:00 PM, Lauren Alaina was "Dancin' In The Moonlight" with fans, happily sporting a NASCAR t-shirt for the special occasion. Alaina sang popular songs such as "Road Less Traveled" and "Ladies In The 90's". In the past, she has shared the stage with well-known artists like Alan Jackson, Carrie Underwood, and Jason Aldean. She has recently sold out her first ever headlining That Girl Was Me Tour in January of this year. Visit her website here.
When 7:30 PM rolled around, HARDY had brought the party to BMS. He sang plenty of songs to prepare the crowd for Morgan Wallen, one of which he sang with Lauren Alaina titled "ONE BEER." Other songs he performed include his new hit single "JACK," "wait in the truck," and GIVE HEAVEN SOME HELL." Unfortunately, after leaving BMS, HARDY and his team were involved in a bus crash where their tour bow flipped onto its side. HARDY suffered 'significant injuries but was later released from the hospital. To visit his website and stream his music, click here.
Morgan Wallen brought down the house by 9:30 PM, singing Billboard hot 100 hits such as "Wasted On You," "Sand In My Boots," "Whiskey Glasses," and "Flower Shops," where he threw out roses to the crowd. HARDY also joined him on stage to sing "He Went To Jared." An encore was performed after much enthusiasm from fans. Wallen is from Sneedville, Tennessee, a town about an hour and a half from Knoxville, Tennessee. He got his start in country music on season six of NBC's The Voice, with a cover of Howie Day's "Collide" landing a spot on Team Usher. For more information on Morgan Wallen and his music, click here.
Tickets for Country Thunder 2023 go on sale November 1st, along with the release of their next lineup of artists!