By Brandon Nunley
From September 15th-17th NASCAR made its second stop in Bristol, bringing breath-taking action, bad-fast cars, and drivers yearning for a chance at a championship. The Bristol night race serves as a playoff cutoff race eliminating 4 of the 16 total playoff drivers from competing for a championship. The Bass Pro Shops Night Race would see a surprise winner, major drivers eliminated from the playoffs, and a night full of tire trouble. 

Aric Almirola started on the pole for the 4th time in his career. He was honored to lead the field to the green flag to start 500 laps of unfiltered chaos. The green flag waved, and stage 1 began. Right out the gate, things were hectic. On lap 42, both the Fords of rookie Harrison Burton and J.J. Yeley had right front tires go down on their cars, bringing out a caution. This would be a bad omen for the other Fords on track as tire issues would persist throughout the race. Following the caution where some front runners made pit stops, Brad Keselowski began one of the best runs of his season thus far. Attention would not stay on Keselowski long, though, as on lap 84, 2022 Daytona 500 champion and rookie Austin Cindric suffered a right front flat, forcing him to come down the pit road. Again, on lap 92, another Ford would have tire issues this time; it would be the #12 car of Ryan Blaney. On the pit road, Blaney's pit crew failed to tighten the lug nut on the left rear wheel, causing Blaney to lose his wheel upon exiting his pit box, acquiring a penalty. The madness of stage 1 ended with Brad Keselowski winning the stage.

The flag dropped for the start of stage 2, where Chris Buescher and Kevin Harvick led the field into another 125 laps of implication-filled racing. Harrison Burton became victim to a right front flat yet again, his second of the race, on lap 134. 3 Toyotas would quietly come off the track and into the garage area, all for power steering issues in stage 2. Bubba Wallace in the #45, Ty Gibbs in the #23, and Martin Truex Jr. in the #19 were the victims of Toyota's power steering failure. Truex would have to retire from the race as his issue was not repairable, but Wallace and Gibbs would later rejoin the race after repairs. Another Toyota, Denny Hamlin, had a problem, but his being only a right-front flat would not ruin his night at this point in the race. One Toyota would have a good stage 2, though, as Christopher Bell cruised to a stage 2 win by more than a second over Ross Chastain in 2nd place.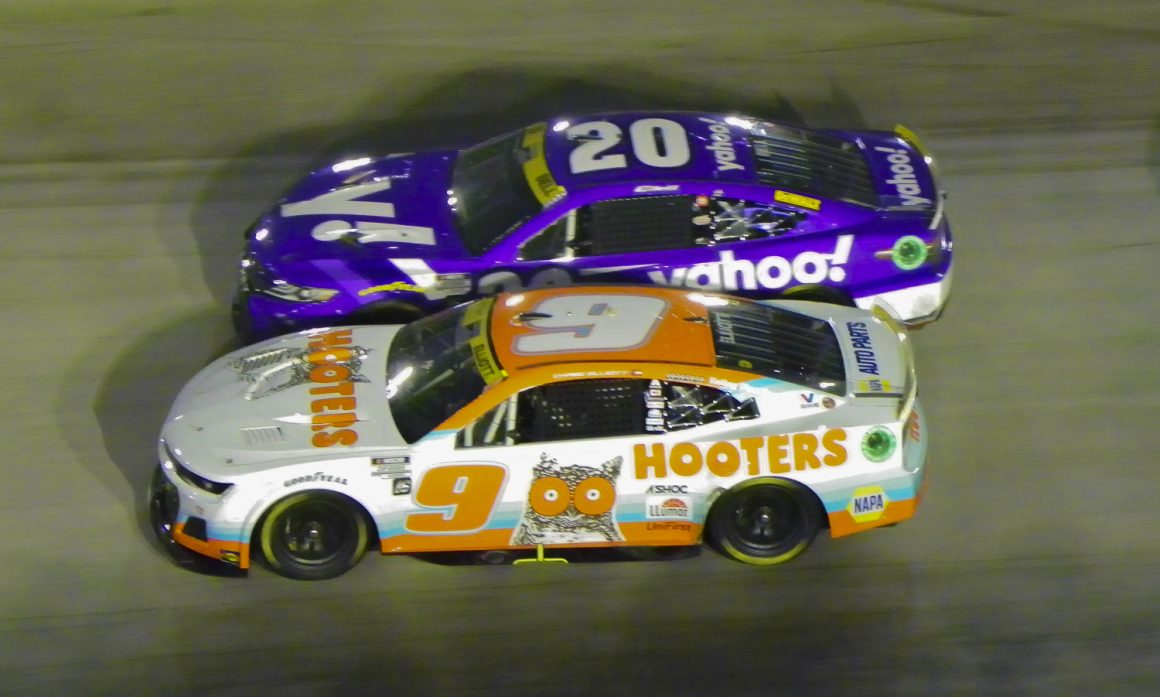 The beginning of stage 3 would see drivers in the race's last half. Christopher Bell pulled the field with him to the green flag, ready for 250 more laps of mayhem. On lap 270, Toyota had another mechanical failure, a 2-time champion, and playoff driver, Kyle Busch. Busch suffered an engine failure ending his race and ultimately eliminating him from the playoffs, crushing his hopes of running for a 3rd championship. A short seven laps later, the caution flag flew again as Daniel Suarez lost control of his car exiting turn two and caused a large pileup of cars, including fellow playoff driver Tyler Reddick. Reddick would bring his car to pit road for repairs and battle his damage all night in hopes of scavenging a round of 12 playoff spot, but in the end, the damage cost him his championship hopes. On lap 388, Brad Keselowski would continue his strong run, passing Kyle Larson for the lead. Ford's tire problems persisted again on lap 398, with playoff driver Joey Logano having a right front tire go down.
After leading nearly 30 laps, leader Brad Keselowski suffered a right front flat of his own, taking him out of contention for the win. Although Ford would see almost every one of their cars have tires go down, be involved in wrecks, or have a bad race, ford prevailed. Chris Buescher captured his 1st win of the season under the lights at Bristol in a convincing fashion, holding off 2020 Cup Series champion Chase Elliott. Buescher's near-perfect closing drive would not be the only variable leading to his win. While under caution for race leader Christopher Bell cutting a tire, the final caution of the night, Buesher's pit crew made a risky 2 tire stop springing him to the lead from 4th place, putting him in prime position to capture the win. This victory would end a 222 race winless streak for Buesher, one of the longest breaks between wins ever in NASCAR history. His win would also solidify the sweep of non-playoff drivers winning all the races in the first round of the playoffs and make Buesher the 19th different winner in the 2022 season.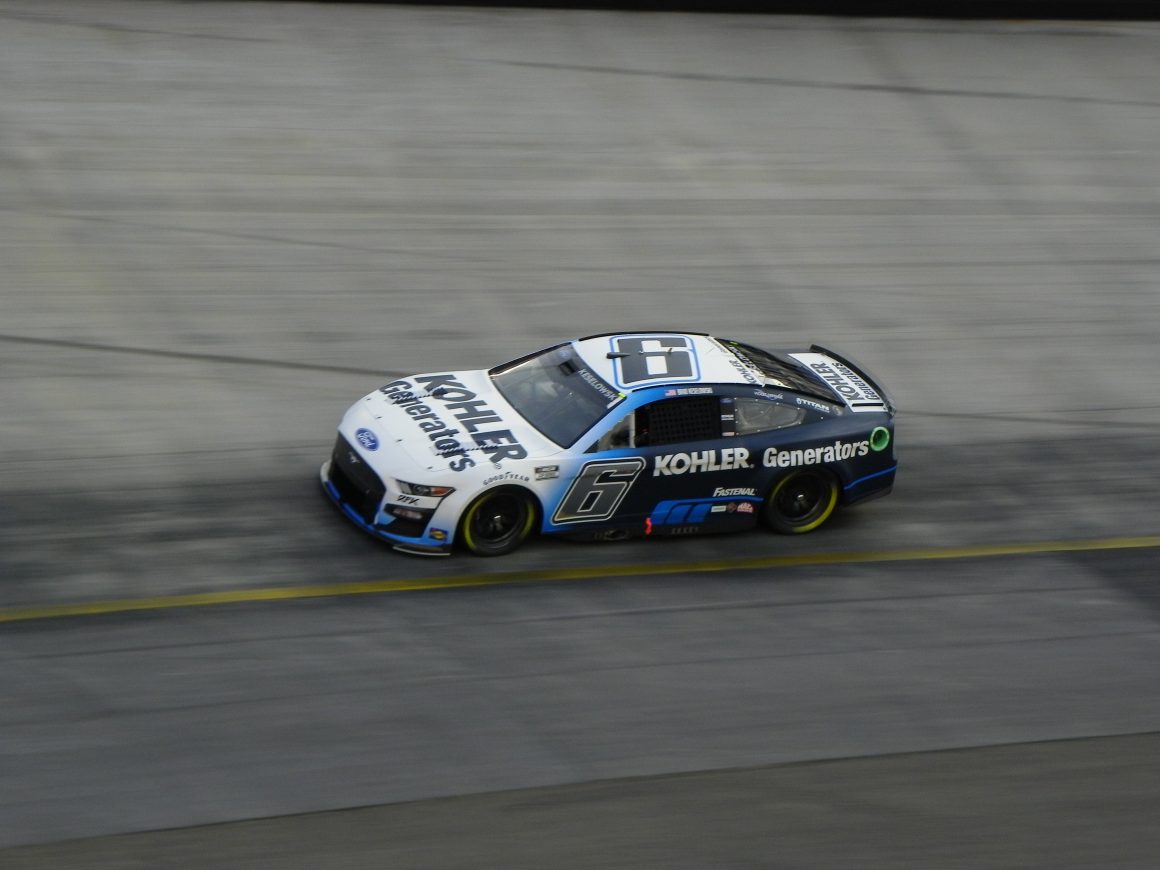 King University is proud to call Bristol home and share it with unique venues like Bristol Motor Speedway. Only 15 minutes away from the University, the speedway is often a popular destination for students during race weekend. The twice-yearly visit from NASCAR breathes new life into Bristol. Fans fill the streets and shops, NASCAR haulers roll down volunteer parkway, and the sound of engines howls through the mountains.
Bristol is slated to be on the NASCAR schedule twice again in 2022. The dirt race will be held in April, with the concrete race in September. Please visit Bristol Motor Speedway's website here for information, tickets, and any questions you may have.